After the longlist was released on Monday, we went to town to see about who these authors are doing, have done and will do in the future…Enjoy.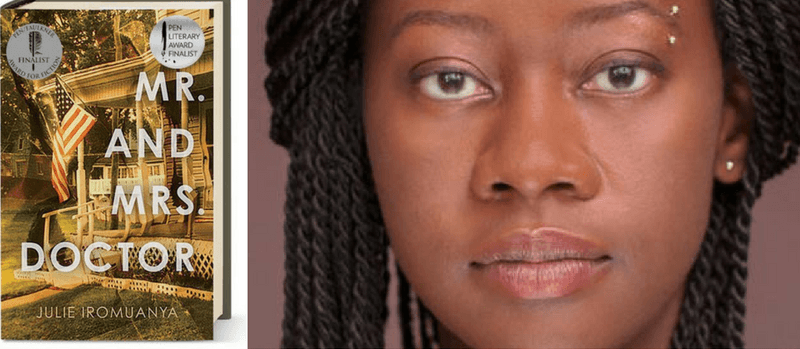 Julie Iromuanya is the author of Mr. and Mrs. Doctor (Coffee House Press), a finalist for the PEN/Faulkner Award, the PEN/Robert W. Bingham Prize for Debut Fiction, and the National Book Critics Circle John Leonard Prize for Debut Fiction. Her scholarly-critical work most recently appears in Converging Identities: Blackness in the Modern Diaspora (Carolina Academic Press). She was the inaugural Herbert W. Martin Fellow in Creative Writing at the University of Dayton. She has also been a Jane Tinkham Broughton Fellow in Fiction at Bread Loaf Writers' Conference, a Tennessee Williams Scholar at the Sewanee Writers' Conference, and a Bread Loaf Bakeless / Camargo France Fellow. Her work has also been supported by fellowships from the MacDowell Colony and the Vermont Studio Center. Iromuanya earned her B.A. at the University of Central Florida and her M.A. and Ph.D. at the University of Nebraska-Lincoln where she was a Presidential Fellow and award-winning teacher. She is an assistant professor in the creative writing MFA program at the University of Arizona.
Mohale Mashigo was born in Mapetla, Soweto, in 1983. As well as being the award-winning singer/songwriter Black Porcelain, Mashigo is a multi-disciplinary storyteller who loves exploring the unknown. Her interests span the life of legendary story women such as Brenda Fassie, and the rich worlds created by authors such as Toni Morrison. The Yearning is Mashigo's debut novel.
Although it sounds clichéd, Nakhane Touré is an artist who would die without his art. Describing what he does as something as a 'necessity', Nakhane surrounds himself with art, books, music, the stuff that fuels his fire.
Nakhane Touré is the author of Piggy Boy's Blues and a multimedia artist born in a small town in the Eastern Cape called Alice. He was raised predominantly in Port Elizabeth and is now based in Johannesburg. After beginning his studies in literature at The University of Witwatersand, he embarked on a music career, resulting in him releasing an album – Brave Confusion – which went on to win a South African Music Award for Best Alternative Album. He lives with his partner of two and a half years in a flat on the outskirts of Yeoville.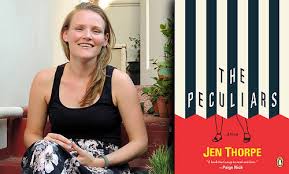 Jen Thorpe is a gender activist and feminist researcher who lives in Cape Twon with her mom and only sister. She has a masters in Creative Writing Program from UCT and another masters degree in Politics from Rhodes University where her focus was on gender politics and particularly the impact of scripts of femininity on young women. She started FeministsSA.com where posts on issues relating to feminism, and feminist events are posted. She has a blog with the Mail and Guardian which she uses to get women's rights and issues of social justice into public discussion. In August 2010, she wrote an article called 'Why It's Not Ok Not To Be A Feminist' that appeared in the South Africa Marie Claire. In 2011, she was nominated as one of 75 Young African Women Leaders and was privileged enough to meet Michelle Obama in Johannesburg. In 2013, she was awarded the Emerging Old Rhodian Award from Rhodes University that celebrates people who are doing well early on in their career. In 2014, she attended the African Women's Development Fund Creative Non-Fiction writing workshop which morphed into her debut novel, The Peculiars. She has written severally for Brittle Paper.
Elnathan is a writer and lawyer living in Nigeria. Mostly.   His works have appeared in Hazlitt, Per Contra, Evergreen Review, FT and the Caine Prize for African Writing anthology 2013, 2014 and 2015. He writes weekly political satire for the Nigerian newspaper Daily Trust on Sunday (and any other publication that PAYS him).  His novel Born On a Tuesday is his debut novel.
Jowhor Ile, the last in a family of eight, was born and raised in Nigeria before leaving to take up a teaching position in the US in September 2016. His fiction has appeared in McSweeney's Quarterly and Litro Magazine. And After Many Days is his first novel.
Andrew Miller is a Johannesburg-based freelance writer. He has worked extensively in the city arts scene over the last decade, and has helped a wide range of emerging artists to develop their careers. Andrew is also a public speaker and performance poet, and has appeared on many stages across Gauteng, from business schools to the Daily Maverick Gatherings, where he discusses ideas such as urban culture, disability, death and the challenges of being South African.
Jacqui L'Ange is a Cape Town based journalist, scriptwriter, editor and author of 'The Seed Thief' (Umuzi). Jacqui is the former books editor for Psychologies Magazine and former Deputy Editor and Books Editor of O – the Oprah Magazine, South Africa. (More info here.) She writes from a glass house in a fynbos garden in Kommetjie, which she shares with her family and a menagerie of other animals.
Unathi Magubeni, 35, is a writer, a sangoma and a trainee herbalist. He le the corporate world in December 2009 a er successfully starting a company in telecommunication with two friends. He currently lives in the Eastern Cape. His first book, Food For Thought, a collection of poetry, was published in 2003. This is his first novel.
Credit:jacana.co.za, bookslive.co.za, jowhorile.com, myfirsttimesa.com, africanbookscollective.com, julieiromuanya.com, captainmycaptain.co.za, laurenbeukes.com,