The Abantu Book Festival is thrilled to announce the writers and  performing artists who will be leading the festival's inaugural program in SOWETO come December 6 – 10, 2016.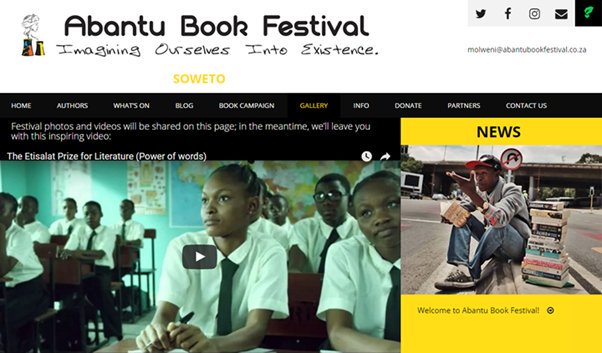 The Abantu Book Festival is thrilled to announce a sneak peek of writers and performing artists who will be leading the festival's inaugural program in SOWETO, 06 – 10 December 2016. The festival is the first of its kind and magnitude, not just in terms of location but to centre black writers and readers.
Organised under the theme – Our Stories – the festival celebrates African stories through written and spoken word, visual arts, music and film. It will explore the ways in which our stories are told, and how these inform, or are informed by, our ways of being.
The Soweto Theatre (Jabulani) and Eyethu Lifestyle Centre (Mofolo) are the main venues, where hands-on workshops, film screenings, panel discussions, intimate conversations by writers and performing artists will be hosted.

The lineup includes , Bheki Peterson, @bonganimadondo @BontleSenne @chikaunigwe, Dikeledi Deekay Sibanda, @uzamantungwa Don Mattera, @Elinor Sisulu @Eusebius @Florence Masebe, @FredKhumalo Gcina Mhlope, HJ Golakai @jamesmurua @khadijapatel @khayadlanga @xabsabza @KPutuma @Djlebza @ Lesego Rampolokeng, @lidudumalingani @MalaikaWaAzania Mongane Wally Serote, @this_natalia @NdumisoNgcobo @NiqMhlongo NoViolet Bulawayo, @JeleCynthia @Percy_Mabandu Phillippa Yaa De Villiers, @feminist_rogue @RediTlhabi Rehana Rossouw, @mokaewriter @SyhleKhumalo Siphiwe Mpye, @SiphiwoMahala Thabiso Mahlape, Thandiswa Mazwai, @ThatoMagano @UnathiKondile Unathi Magubeni, Vangi Gantsho, @Xoligrace @yomotoso, Zukiswa Wanner, and others still to be confirmed.
"In this lineup we find depth and variety," says @panashechig the festival's curator. "Some of our authors have been telling stories for as long as others have been alive, while others have just begun but are bringing incredible innovations to the art. Together with our storytellers, we'll be looking black to the future."
The people's bookseller and valued partner, African Flavour Books, will have all African and diasporan titles on sale at the venues throughout the festival.
This significance of this festival for the South African and African literary landscape cannot be overemphasized; so too is the importance of holding it in Soweto -the country's artistic and cultural melting pot- 40 years after June 16, 1976.
Many thanks to partners and sponsors like the Department of Arts and Culture, National Institute for Humanities and Social Sciences, Miles Morland Foundation, Goethe-Institut, Soweto Theatre, Eyethu Lifestyle Centre, and African Flavour Books. And here's to some individual donors too, who responded with kindness to the public call, especially in the early days when friends were desperately needed. Thank you for the support, y'all.
The schedule of events will be published soon. Watch this space!!!
Full author profiles are available here: www.abantubookfestival.co.za
Come one; come all!
Credit: abantubookfestival.co.za