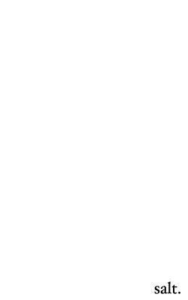 salt. by Nayyirah Waheed is one of the best poetry books ever written by an African. Many reviews attest to this and the poems speak this truth. In salt. Nayyirah Waheed writes deliciously and ferociously. Each word feels like a caress on your skin and an awakening of your senses.
Waheed writes of love, of pain, of Africanness, of duty, of vulnerability, of safety, of anger, of misogyny, of masculinity, of women. Each poem, in their every right hits home and gives insight into what is. This book embodies softness but this does not take away from their fierceness of the poems and Nayyirah Waheed's writing.
Three of my favorites from salt. include:
1. no'
might make them angry
but
it will make you free.
–– if no one has ever told you, your freedom is more important than their anger
2. what i never
learned
from my mother
was that
just because someone desires you.
does
not mean they value you.
desire is the kind of thing that
eats you
and
leaves you starving.
–– the color of low self esteem
3. african american women are easy. inferior.
africans are dirty. jungle people.
african americans are lazy. indolent.
african people are too black. ugly.
african americans think they are better than us.
africans think they are better us.
–– listen to the sound of us | we are breaking our mothers heart | the ancestors weep at how much we look like the hate that came to eat us
Should You Read?
I recommend salt. with all my strength. If you love poetry and you haven't read salt. Do yourself a favor.