Kiru's Thoughts on #WHM
"The first thing that came to mind was that I wish for the African women in publishing to get more recognition. There are so many women working hard in the business. A few that come to mind are Azafi of Parresia Publishers, Ainehi of Brittle Paper, Lola of Ake Festival and so many more. Of course we celebrate the big names like Nnedi, Chimamanda and Chika. But I would also love for more recognition for lesser known female writers especially African writers of romance novels. All kinds of African stories should be elevated, the serious ones as well as the fun ones. There is no one African story."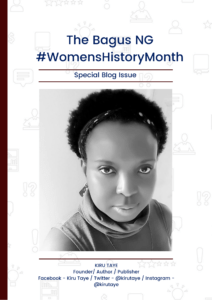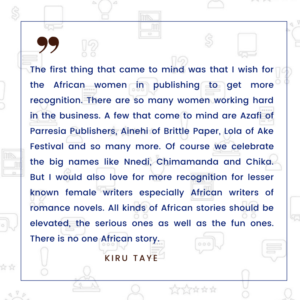 Kiru wanted to read stories about Africans falling in love. When she couldn't find those books, she decided to write the stories she wanted to read. Her stories are sensual, her characters are flawed, and sometimes she adds a dash of exciting suspense.
Her debut novella, His Treasure won the Love Romance Café Book of the Year in 2011. The stories in her popular Essien series are international bestselling novels.
She believes this is the time for African writers of pop/genre fiction which is why she founded the publishing firm Love Africa Press. She is a USA Today bestselling author and also a co-founder of Romance Writers of West Africa, a support organisation for African romance writers.