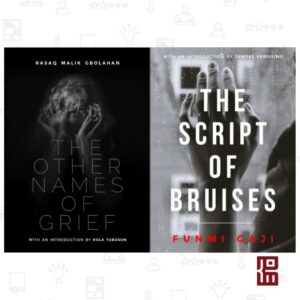 Are you looking for the finest African poets? Brash new poetry-only publishing house, Konya Shamsrumi, is set to release two new books by Funmi Gaji and Rasaq Malik Gbolahan (RMG) this February. Founded by Richard Ali and Umar Sidi in 2017, Konya Shamsrumi's vision is to traditionally publish four African poets each year. Using a collective-owned press, Konya Shamsrumi released Umar Abubakar Sidi's "The Poet of Dust" in 2019, with Ali's "The Anguish and Vigilance of Things" following in 2020. The release of these new chapbooks brings the book count to four.
Rasaq is a graduate of the University of Ibadan and his debut chapbook, "No Home In This Land", was published by Chris Abani and Kwame Dawes in their African Poetry Book Fund (APBF) poetry box set in 2018 to rave reviews.
In his foreword, linguist and poet, Kọ́lá Túbọ̀sún, observes: "How do we, today, go through the day without contact with some news item that breaks the spirit? And if it is hard enough for the citizen, how much more the writer? The poems that make up this chapbook are one writer's lovelorn response to a broken world. The pain is there, from the first line of the title poem."The Other Names of Grief" contains 24 poems.
Jumoke Verissimo, whose poetry is widely taught, translated and anthologized, notes in her foreword to Funmi Gaji's "The Script of Bruises": "There is a curiosity in (this) writing. She is writing to know more than normalized, to navigate a world that spits out people it does not recognise. In her curiosity, she asks the reader to learn and know this world with her. She imposes on the reader an implicitness. So that they can as well be vulnerable, imperfect and filled with doubts like the personas in her poetry."
In this debut offering, Funmi employs dissonant phrases to capture the dilemma of being a woman (or not woman), as well as the miasmatic violence of living today, a miasma that is both physical and psychological. Funmi Gaji is a doctoral student at the University of Ibadan where her areas of interest range from comparative literature to Jungian feminism.
Both chapbooks will be released on February 21, 2021, and pre-orders are already open for Nigeria—
"The Other Names of Grief" by Rasaq Malik Gbolahan.
"The Script of Bruises" by Funmi Gaji.