"Books give a soul to the universe, wings to the mind,
Flight to the imagination, and life to everything."
– Plato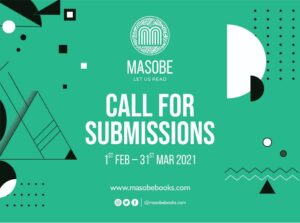 Masobe HQ is always on the lookout for new talent, writers with fresh and original voices/perspectives who tell stories that hum with emotional truth, stories
that uniquely explore the human condition as well as stories that entertain.
Masobe is currently accepting fiction (novel and short story) manuscripts. So if you are a storyteller or know someone you think tells the most magical and fantastical stories, you are welcome to show Masobe what you got.
To send your work please visit masobebooks.com or go through the following guidelines:
1. To submit your work, fill the manuscript submission form in the Submissions page.
Note that only ONE submission per writer is allowed. Multiple submissions may lead
to disqualification.
2. Attach a one-page synopsis of the work you are submitting in Microsoft Word.
Please include all major plot points in your synopsis, including spoilers, and especially the end.
3. Attach a sample of the work in question. This should be the first 3 chapters or first 3 stories of your manuscript in Microsoft Word.
4. Send your manuscript sample in double-spaced, indented paragraph, left-justified only. We prefer Courier New font type with a font size of 12pt.


Masobe Books is not accepting unsolicited poetry submissions or plays at this time.
Unsolicited submissions sent to other Masobe email addresses may be overlooked.
Hard copy submissions will not be acknowledged or returned.
Good luck!
At Masobe, the primary aim is to encourage reading by making available to the public, great books by talented African authors who bring our stories to life. The vision is to be a major player in the African publishing industry, with a cache of acclaimed authors.
Masobe is a word derived from the Isoko Language of the Isoko people who hail from the Niger Delta region of Nigeria. It means 'Let Us Read'.
For more information, please contact: Theresa Egware at 07018383286, email:
info@masobebooks.com or visit the Masobe Books website at www.masobebooks.com.