Its here again…drum rolls…Be there!!!!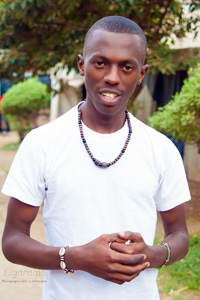 The featured poet for the month of August, Poet Andrew is a Nairobian poet who grew up in Kasarani listening, mostly, to rap music.
At 13, he joined four other rappers to form a group called JALIHALI, which went on to record two singles. One of the singles — 'Life ya Mtaa' — was well received and got much airplay on Ghetto Radio because it spoke about life in the hood.
JALIHALI disbanded a year later as members sought to pursue high school, but Poet Andrew continued to record as a solo rapper. Poet Andrew's foray into Spoken Word began 2013 as he transitioned from writing rap music to poetry.
This August marks Poet Andrew's second anniversary as a performer as his first Spoken Word gig was in August 2014. He writes mostly in Kiswahili but also in Sheng, English, KiKamba, Luyha and Dholuo.
He describes himself as a poet who brings words of humour to humans in order to motivate, inspire and transform his society. Poet Andrew calls himself the captain in the flight of poetry.
The Captain has graced over 30 different stages including *Kwani? Open Mic, Mseto Campus Tour in Kilifi, Slam Africa 55th edition, Angaza Show (KBC) Churchill Live (3 acts aired in Qtv) Anticorruption Day and World Refugee Day.
The Spoken Word, to him, is more than art because it is his main work. He is also a songwriter and a motivational speaker.
Culled from kwani.org
@KwaniOpenMic