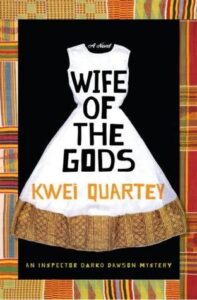 Wife of The Gods is a classic case of whodunnit—a tale of finding the murderer of Gladys Mensah. Darko Dawson, a police detective in Accra, Ghana, was sent to solve this murder mystery, leading to a series of discoveries in the village where Gladys' body was found.
Wife Of The Gods has a vast character list. Still, every one of these characters has something binding them together, thus having the reader see an interplay of African customs and traditions versus where the book's title gets its origin. The Trokosi in the book belong to the gods from birth, and Efia in this book is one. Therefore, this makes her a wife of the gods, and at twelve, she gets married to Togbe Adzima. It's Efia who finds Gladys' dead body at the beginning of this book.
Wife of The Gods, in many ways, showcases the dynamics of traditions, in all their joyous glory, as well as the ways it adversely affects people who practice these cultures. As many books set in Africa, patriarchy makes itself known in the book, and we see the women in the book are in a way or the other trying to survive the patriarchal system. Colourism, pretty girl privilege, misogyny, and purity culture are all found in the book.
With these themes, circumstances and situations unravel themselves leading to the revelation of the unexpected killer of Gladys Mensah. Wife Of The Gods was such an exciting read.
Should You Read?
If you like thrillers where you get to learn new things about the Ghanaian culture in Africa, this is a good read for you!