Oyinda's Thoughts
"I have high hopes for women in the African literary sector. Right now, there are a lot more female authors making waves and putting out amazing content than there were when I was a child. I can confidently project that this number will only increase over time. The stories they tell are also very valid and true to the loved experiences of African girls and women. Books like His Only Wife, Ogadinma, Stay With Me and The First Woman are books that need to get into the hands of African girls and women everywhere.
I am also hopeful about women in the positions to push these books, like the publishers and marketers. Right now, we have few Nigerian publishing houses owned or run by women, but I'm sure that more and more women will take up spaces in this industry and shake the status quo."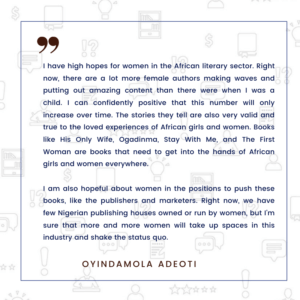 Adeoti Oyindamola is a content creator, blogger, graphic designer and avid reader of beautiful books.
A graduate of English and Literary Studies, she has loved reading and writing for as long as she could remember. She started her personal blog in November, 2015. Since October 2017, she has worked with and for over 50 brands, individuals, and websites from all over the world to create amazing content.
With over four years of experience as a blogger, almost three years' worth as a freelancer, and one as a corporate Content Developer, she has gained experience and developed my skills in blog writing, web content writing, brand definition, product description, newsletter writing among a host of other things.
She's a self-taught graphic designer and video editor.