Ola's Thoughts
"It's a new season in the creative world. The world is waking up to the creativity in our prose, our fiction, in the lines of our poetry, the ingenuity of our comedy. Our innate ability to use our pain, our laughter and our frustration to use the tool of creativity to link to technology and open up opportunities for ourselves. Women are the multitaskers. They use their engagement with their emotions to correctly assess the world around them and tell their own story."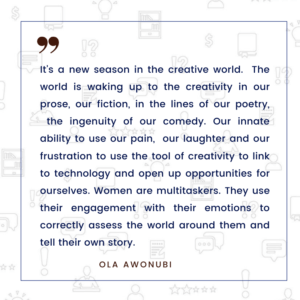 Ola Nubi studied for an MA in Creative writing and Imaginative Practice at the University of East London and in 2008 her short story The Pink House, won first prize in the National Words of Colour Competition and another short story of hers The Go-Slow Journey, won the first prize in the fiction category for Wasafiri's New writing prize 2009 and the Best Author CA Awards 2019.
Some of her short stories feature on Afreada, Brittle Paper, Story Time, Woven Tale Press and The Siren. She has had over 15 short stories published in various literary magazines, journals and on blogs and speaks at writing events.
Author of 3 books – Love's Persuasion was published by Ankara Press – the Romance imprint of Cassava Republic Press, Nigeria in 2015. Her second book for the imprint – 'I Love You Unconditionally' was published in 2017. Her third book – an anthology of short stories – 'Naija Love Stories' was published by Conscious Dreams Publishing in October 2018.
Her 4th book '14 Days and Other Stories' is a romance novella and her 5th book 'Reasons Why I Need to Get Married Yesterday and Other Poems' was published last year.
She is currently working on a historical fiction manuscript.