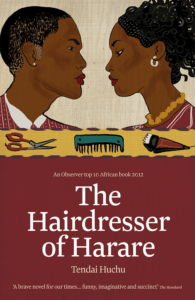 "There's a proverb that tells how tender men are when they're courting but once they get what they want they change entirely. I hadn't expected this of Phillip; he was different. He said he loved me; he said he would leave his wife for me. I was too young to know that there was nothing new in such lies."
The Hairdresser of Harare is a fast and engaging read about the life of Vimbai, hairdresser in Harare who had been doing so well in her career till her competition came and she had to deal with the envious feelings that came with her competition.
Series of events led to one another and in no time, Vimbai and her competition, Dumi were relating on a better level, attending parties together and even, getting into a relationship. Everything happened so fast as Vimbai discovered many truths about Dumi on the surface and even intimate grounds.
This book is an engaging read and I like how the writer used words to draw the reader in. While it took me a minute to adjust to the writing style of Tendai Huchu, the story itself, in the way it was opening in layers kept me hooked and I wanted to know what was going to happen and the twist that seemed to be the bane of the Vimbai.
"Jealousy is the worst feeling in the world. It creeps up on you, hugs you so that you can't breathe. Your chest feels compressed and food loses its taste."
There were different themes of sexual assault, moral decline, family relationships, workplace dynamics, religion, LGBTQ+ representation and many more.
While I like how Tendai Huchu tried to use the twist in the book to hold the interest of a reader, it was quite predictable and I realised what the twist of the book was early on. The ending, however, or the reaction of Vimbai to the twist had me conflicted. It felt like a circus of interesting and unnecessary emotions and to write that quite interesting story, only to lead it to such reaction/ending felt very anti-climatic for me as I did not even see the growth of Vimbai, only guilt at her actions.
Nonetheless, this was a good and quick read that I believe will make a good book club read. It would be quite interesting to hear the opinions of people on this book.
Should You Read?
If you love books that make you think and are fast paced, then you should read this.