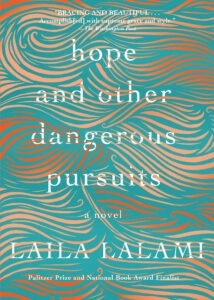 "His future there stands before him, unalterable, despite his efforts, despite the risk he took and the price he paid."
The first thing that drew me to this book was the title — Hope and Other Dangerous Pursuits. It left a lot to my imagination and fired up my thinking process. Who are the hopeful? Why is it a dangerous pursuit? What other dangerous pursuits are therein?
This book is such a unique one. It deals with immigration, fanaticism, hypocrisy, abuse, queerness and many more themes. So many questions were asked in this book and some were answered while some were left to the reader's thoughts and the room to talk it out with other readers. There are questions on the use of hijab, human morals and their beliefs; questions on the unknown and "mystical" happenings; the role of women and at large, gender roles.
Lalami's writing is brisk, thoughtful, straightforward and the review by The Washington Post on the new cover is the utmost truth, it is bracing and beautiful.
This book is divided into two parts; before and after, and every story is vivid and exposing. I love the title each chapters had. Some titles are The Fanatic, The Odalisque, The Storyteller and more. At first, when I saw the content of the book, I thought it was a collection of short stories then I had to reread the synopsis again.
This book is centralized on four peculiar citizens of Morocco hoping to migrate to Spain and their lives before and after The Trip was brought to focus. Murad, Faten, Halima and her children and Aziz went on "The Trip" and each of them became different. So different. Life and its different strokes had shaped  them into new beings.
This book also exposes how daunting migrating can be and it's not always about getting up  and moving. Many times, sacrifices are made and lives are altered.
Should You Read?
If you like pure storytelling and a first chapter that hooks you, you will like this!