Masobe is committed to discovering and supporting outstanding literary work, and in that vein, we are pleased to formally announce the acquisition of publishing rights to two new works that delicately capture the beauty of friendship, the realities of being a woman, and the complexities of human nature.
TJ BENSON is a writer and visual artist who explores the body in the context of memory, migration, utopia and the unconscious self. His works have been exhibited, published in several journals, and shortlisted for awards; he won the Amab-HBF Prize in 2015 and was the first runner-up for the Short Story Day Africa Prize. His first novel, 'The Madhouse', was published by Masobe Books in February 2021. He currently lives in an apartment full of plants in Kaduna, Nigeria and is on the verge of becoming a cat person.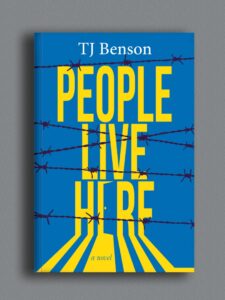 'People Live Here' is TJ Benson's third book and second novel. It follows Kanulia 'Lia' Madueke who is in pursuit of a better life for herself and her young son following the harsh economic realities of the fuel subsidy removal crises of January 2012. Lia lands a foreign-aid nursing job in war-torn Yemen and there she begins a journey of friendship, trauma and rediscovery that will bring her back to Nigeria a changed woman; one trying to root herself to the sensibilities required to survive but finding herself always drifting towards something more noble, idealistic, and possibly destructive. In 'People Live Here', you will experience the world through Lia's unforgettable, honest and fragmented mind. It is a story about what makes a person, a study of human character and a lesson in compassion. It is set for release in the second quarter of 2022.
DAMILARE KUKU is a creative artist who has worked as a radio presenter, scriptwriter, film producer, and director. She holds both bachelor's and master's degrees in the Arts, and hopes to start a PhD. (also, in the Arts) someday, and maybe teach. Currently, she is best-known as an actor in Film (including The Set Up and Chief Daddy); Television (including Season 1 of Ebony Life's Castle and Castle and Africa Magic's Unbroken); and Stage (including Kakadu the Musical and Ewa). As a child, she was drawn to the enduring magic of books, and saw writers as spell casters. Naturally, she was entranced to become one.
'Nearly all the Men in Lagos are Mad', Damilare's first published work, is a collection of short stories, structured as case-studies, and a form of love letter in solidarity with the women who have survived romantic relationships with men in Lagos. She deftly categorises and analyses the various archetypes women are likely to encounter in the dating scene in the city, from serial cheaters, to mummy's boys, from the 'fake it till you make it' adherents to the ones who can't commit; this book underscores with wit, humour, wisdom and sensitivity the perils of trying to find lasting love and companionship in Africa's craziest city that will prove universal and illuminating. It is billed for release in the last quarter of 2021.
Specific release dates (and publicity schedules) for each book will be announced in due course. For more information, please contact: Theresa Ominiabohs at 07018383286, email: info@masobebooks.com, follow them on @Masobebooks on Instagram and Twitter, or visit the Masobe Books website at www.masobebooks.com