Amyn's Thoughts
"My hope for women in the literary arts is to do things afraid. We need to tap into the audacity that men seem to have in abundance and go after what we want. Even if we think it's mediocre, put it out. The world has been dealing with mediocrity from men for centuries, it's time to balance the scale."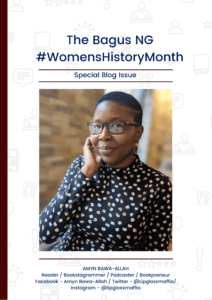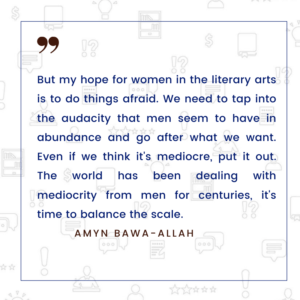 Amyn Bawa-Allah is a Copy Editor and Content Strategist, writing and developing content for clients who believe the world needs more people to avidly pursue their dreams and live in the present.
Since 2013, she has been helping people learn how to read for pleasure through her blog, Something Bookish. In 2020, she launched The Something Bookish Podcast, a show where she hosts unfiltered conversations with herself or a guest, about all things related to books and reading. She is also the co-host of The Litty Podcast, a show devoted to alcohol-infused bibliotherapy and the magical power of friendship.
When she is not writing, creating content for multiple platforms, or thinking up fresh ways of making reading fiction more exciting, she talks about books and shares recommendations on Twitter and Instagram. Check her out on @lipglossmaffia & @something_ _bookish
If you ever meet her in person, remember that she has an exploitable weakness for chicken wings and Heineken.