#ALitFest20 which is themed The Art of Empathy will mark the 3rd Edition of the festival. For this edition, the Festival welcomes a wider participation to the growing literary community in Africa by going virtual. With this, the festival aims to breach geographical barriers through inclusion and Pan-Africanism.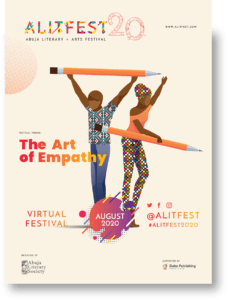 The festival appoints this theme in hopes of highlighting the importance, beauty and need for diversity and difference as well as the role of the creative in building bridges within and across societies. As such, the panels and events have been curated to help participants explore several important societal issues such as tribalism, racism, homophobia, misogyny (also misogynoir), classism and other relevant issues. From the unique perspectives of creative minds, this year's edition of #ALitFest seeks to help people see the world through the eyes of others.
The program includes panel discussions hosted by intellectual panelists from diverse backgrounds including Helon Habila, Edwige Dro, Sawad Hussain, Dike Chukwumerije, Kola Tubosun, Tsitsi Dangarembga and Odafe Atogun. The Festival also offers film screenings, e-yoga, virtual tours and even a grand poetry slam, all which will be offered and available to participants at the click of their screens. The festival will release more information about its activities in coming weeks.

Some of the activities include book chats, a poetry slam, writing competitions, online festival bookstore, online art exhibition (with partners), film screenings and poetry readings.
The festival has chosen to use the webinar platform Hopin (hopin.to) as it is incredibly feature rich and includes a key networking component that allows guests interact and reach out to each other via different means. We think this is extremely important as it helps us retain a key value proposition for literary festivals which is to increase collaboration between creatives across geographical spaces.
Some of the topics to be discussed include;
The Creative and the Law
Empathy? Does the artist always have to unite?
In her shoes: Understanding Sexual Abuse
Writing in Mother-tongue: A Tool for Empathy?
Can We Write Prejudice Out of Society?
Mental Health: Can Art Help?
Black Africans and Black Americans: The Role of Empathy
Writing Political non-fiction: Learning from Nigeria & Zimbabwe
Art in e-Spaces
To Be or To Be: Pride in African Societies
Writing Fiction: Preserving African History through Prose