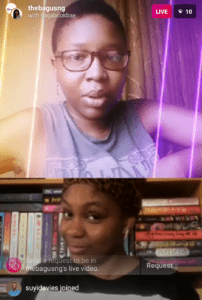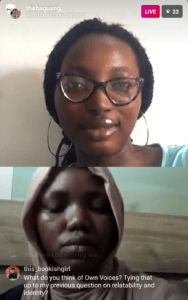 In a refreshing twist of events, The Bagus NG started the #BookstagramSeries with its first ever edition held on April 23, 2020 with four notable bookstagrammers doing justice to African literature – Aeesha Yusuf (That Other Nigerian Girl), Amyn Bawa Allah (Lipglossmaffia), Lara Kareem (Naija Book Bae) and Funmilola Ogunseye (Dasience) who spoke on what bookstagram was, the do's and don'ts of aspiring bookstagrammers, how publishers and the general public could collaborate with bookstagrammers and the benefits of bookstagramming to the Nigerian literary scenes.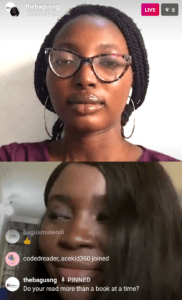 Our second guest for the series were Funmilola Ogunseye (Dasience) and author, Edify Yakusak who also runs Kurdan Publishing and Twang Africa. She authored After They Left and The Curse of Happiness. The conversation centred around the author's writing process for both books, advise for aspiring writers and books she's currently reading for the lockdown period.
It was really exciting having these sessions. The next session is billed to hold on May 7, 2020 with Lara Kareem (Naija Book Bae) and speculative fiction writer, bizarro author and Otaku, Erhu Kome Yellow.
If you missed the session, click here, here and here to watch it. Do check out our Instagram TV channel and our Youtube channel here.