"One never knows how life will turn sometimes, one minute you are cruising down the highway free and happy, singing along with the radio, and then, boom, you're a head-on victim of some drunken idiot, and you wake up paralyzed in a hospital bed, and the idiot ends up with a few scratches and contusions.
Sometimes it happens slowly, the wink turns to a conversation which turns into a ride to the beach, and then you're rolling on the sand, blinded by the passion of the sexy stranger to the fact that you're married with  children, and then eight months later, you get a phone call and your sexy fling is pregnant, with twins, and she's just called your wife at home, and the day goes from cheery to nightmare in one long moment of realization that the ball you sent rolling away has just come home, you picked it up, and it's covered in anthrax spores, but you thought it was powdered sugar, so you licked your fingers, and it's all your fault, with no one to blame for the thousand poisoned needles that are simultaneously thrust into your soul…"
There are not many Nigerian creatives you will find that are half as hardworking as the enigmatic Onyeka Nwelue. He is opinionated, provocative and controversial, but you cannot deny that he puts the work in. He is the author of the award-winning books "The Abyssinian Boy" and "Hip Hop Is For Children". Nwelue is also a seasoned filmmaker, with the documentary "House Of Nwapa" and the short film "The Great Masturbator" to his credit, plus an Igbo language film in the works.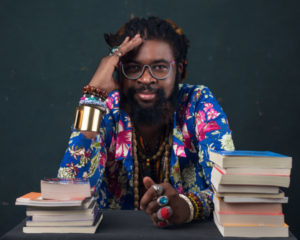 Photo Credit: bellanaija.com
"The Beginning Of Everything Colourful", published by Parresia Books, is the story of two men, one Mexican and the other Japanese, who are waiting at the departure lounge of the Doha International Airport for their connecting flight to Tokyo. They meet each other and share stories. The Japanese man talks about his restaurant business in Nigeria, his daughter Aiko who likes Nigerian boys, his son Hachiro who loves weed and Nigerian music, and a childhood friendship with Jackie Chan. The Mexican opens up about his abusive childhood, his affair with a Catholic nun, his marriage to a much older woman, and  long days of homelessness in some of the world's major cities. The Japanese man eventually goes silent, and the Mexican goes on to do all the talking.
The stories of these two people, and of one person in particular, take us around the world, from mental institutions in Mexico, to music stores in India, to prison cells in Tel Aviv, to subways in New York. The pages in this book dwell on religious fanaticism, psychological trauma occasioned by abuse, spiraling effects of marital infidelity, strained family relationships, mental health struggles, and the fight to live through each day. There is huge reference to the influence of music on culture, from The Beatles who inspired the "free love" era of the 1960s, to Elvis Presley, Elton John and Wizkid. Other themes, including immigration and racial stereotypes, also rear their heads here.
The novel is a blend of fact and fiction, with real-life individuals like Rudolph Giuliani, John Lennon, Yoko Ono, Dudley O'Shaughnessy (from Rihanna's "We Found Love) and Nwelue himself, running into and colliding with fictional characters who get caught up in actual events. The use of Spanglish (by the Mexican) and 'broken English" (by the Japanese man) makes for colourful dialogue, and more importantly, hands a very original voice to the narrative.
This book is not a completely smooth ride though. The adulteration of English may have been deliberate, but the mix-up of first and third person pronouns, with the paucity of quotation marks, would leave readers confused at various portions of the narrative. The sequence is largely distorted too, with the haphazard arrangement of events and lots of going back and forth, making for a really distracting read. For a moment, it feels like listening to a drunk man's story at a pub, with lots of rambling and lumping of incidents together without any real rhythm to the narration. This, however, takes little away from the gripping nature of the novel.
"The Beginning Of Everything Colourful" is high-brow literature, beautiful even where difficult to understand. Nwelue has come a long way from "The Abyssinian Boy", but he reckons without an impatient Nigerian audience quick to drop a book once they tune out for even a moment. This body of work is made to grow on readers like an album that makes sense after a third listen, and its sophistication will count in the long run, but Nwelue should not expect too many pats on the back right now.
Rating: 6.8/10
Jerry Chiemeke is a screenwriter, editor, movie critic and lawyer. He has been published in Brittle Paper, The Kalahari Review, Viva Naija, Pulse Nigeria and Kenya's Daily Nation. Jerry critiques African literature for Okadabooks on the Bellanaija platform. He is the winner of the 2017 Ken Saro Wiwa Prize for Book Reviews and Literary Criticism.