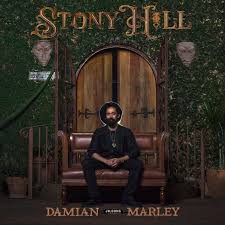 (Songwriters are writers too, so, yes, there will be room for a music review now and then. Here, we waste no moments in celebrating the creative process.)
This is more of an apology than an actual review.  I have always prided myself as someone who had wide and far-ranging tastes in music, and I think of myself as someone who is able to enjoy music of all kinds and genres. So when I was given a copy of Stony Hill, Damian "Jr. Gong" Marley's 2017 album, by my publisher, I was skeptical about it. And with what I thought was good reason.  The mindset of a lot of people is that Music is a rich balanced diet, and reggae music is a minor condiment, something to be included in the mix, just to fulfill all righteousness, to make one appear to have a cosmopolitan outlook on world music.
Nothing could be farther from the truth.
Damian Marley has come a long way from the sound of his first solo album, Mr Marley, which he dropped in 1996, a little over twenty years ago. The youngest son of Robert Nesta "Bob" Marley, he was only two years old when his father was called to the great big recording studio in the sky, but his father wasn't Jamaica's biggest (musical) export for nothing. It is difficult to be a breakout star and be accomplished in  your own right with a father as famous as Bob, but Jr. Gong has done just that. Starting out with a band when he was just 13, he went on to share a stage with several notable reggae and dancehall personalities, from siblings Ziggy and Stephen Marley to the likes of Shabba Ranks. Indeed, the 39-year old has proven that music resides in his DNA.
With this album, he has shown to the world that although reggae may have originated in his country, it is not by any means confined to the little island nation. With a blend of infectious, hard thumping rhythms and smoother-than smooth vocals, D. Marley comes with something for everybody.
In "Nail Pon Cross", he goes philosophical, with the smooth delivery and powerful lyrics that reggae is known for. The trumpets on the song are beautiful, they banish that image of the head-shaking, guitar-twanging, reggae crooner with a minimal understanding of music out of our minds for good. And when you think he has gone soft, he hits you next with  R.O.A.R. , a bouncy, groovy dancehall jam that clears your doubts about the depth and thickness of his Jamaican roots.  Or shall we talk about "Grown  and Sexy", on  which his elder brother Stephen Marley waxes Drake-esque on a chorus that would not be out of place on any RnB song?
So struck was I by the  beauty and power of the album that I performed the shuffle test, in which I set the album to play any song at random, and yet I found no track skippable. While there are clear album favourites, there is no song that is out of place, or that the album could have done without. This "Jr. Gong" album truly is Jamaica to the World. The basket of offerings is complete, there is something for everyone. His father would have been proud. In this one album, I confess I have been schooled as to the power and potency of reggae music in a way that I previously knew nothing about.
I have no doubt that in this album, we are looking at a surefire Grammy nominee for the Best Reggae Album, and to be honest, it will not surprise me in the least, no, scratch that, it will surprise me if he does not win it. After all, his surname is Marley.
Ikechukwu Nwaogu is a writer and content developer. His works have been published in Daily Trust, The Metro Review, Fifietalks and Revue.ng . In 2016, he was a fellow of the Ebedi Residency for Nigerian writers, where he co-wrote the chapbook "A Half-Formed Thing."