African literature has come a long way. From the days when it was astounding to think that a person of color could actually produce something that could be termed as good writing, much less great writing. From the days when African storytelling was carried out in moonlit glades by parents and elders, stories for Africans and by Africans are breaking out on the world in a big way. One such talent is british Ghanaian filmmaker and writer, Yaba Badoe.
Yaba is a Ghanaian-born British trained writer, who, after a stint at the Ministry  of Foreign Affairs in Ghana, veered off into journalism as a trainee at the BBC. She has taught in Spain and Jamaica, and worked as a producer and director making documentaries for the main television channels in Britain. She notably worked on Black and White, which looked into racism in certain parts of the UK, and I Want your Sex, which attempts to analyze Black Sexuality in Western art, literature, and photo/videography.
But her highest point, and arguably the work for which she is most widely known, was in the producing and direction of the powerful and gripping documentary The Witches Of Gambaga, which won Best Documentary at the Black International film Festival in 2010. It also bagged second place in the documentary section of FEspaco 2011, Africa's biggest Critically acclaimed, the documentary  looks at the lives of the women living in the Gambaga witch Camp, a segregated community within the Gambaga township area of Northern Ghana, established as far back as the 18th century with the ignoble function of accommodating suspected witches and wizards. With the witches of the camp being primarily widows, it is suspected that relatives of the deceased husbands accuse the women of witchcraft in order to gain access to the wealth left behind by the men. Other inhabitants are also either mentally ill, or have been accused of using dark magic to negatively affect circumstances in their host communities.
Yaba, after making such enviable strides, turned her talents to writing. Her first novel, True Murder, was published in 2009. Fast forward to 2017, September precisely, and she has dropped not one book, but two!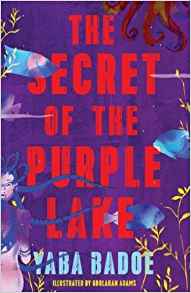 The first book, The Secret Of The Blue Lake, is a masterpiece of storytelling that jumps across countries and continents, and shows us the beauty of connectivity in a way seldom seen. Minor characters in stories become major ones in others, and the stories show us how interconnected we are, and everything, from Walrus Princes to magic elephants, from Wild Princesses to Graceful fishermen's daughters, shows off the sheer beauty of the mind of this multitalented storyteller across several media.

The second book, A Jigsaw Of Fire and Stars, is a jewel  of a story set in a world as fantastic as A Tolkien's Middle-Earth, or Rowling's Hogwarts. From being born in a distant land, and set at sea  in a chest laden with treasure, we encounter Sante, the main character as a performer in a circus, with language so powerful, and descriptions so vivid, we are transported into another world by just reading.
Issues like trafficking in persons and history are set in a rich bed of African folklore and magical realism so rich, so breathtaking, that it is relatively safe to say that Africa has spawned another fantastic writer,  much like Nigeria's Nnedi Okorafor.
With her unique zoomorphism, where humans  take on animal characteristics rather than the anthropomorphism that is typical of fantasy and speculative writers,  Ms Badoe has woven a tale that will be exciting and thrilling a lot of young readers for a long time to come.
Buy the books, it will be money well spent!
Photo credit: blog.mugglenet.com/amazon.com/goodreads.com