Kurdan Publishing in collaboration with Bagus Mutendi announces the Jos tour of the sensational #AfterTheyLeft book and its author, Edify Yakusak which had a successful outing in Abuja and Lagos respectively and would be making another stop in Jos, Plateau on Saturday, December 17th 2016 for book reading and signing events.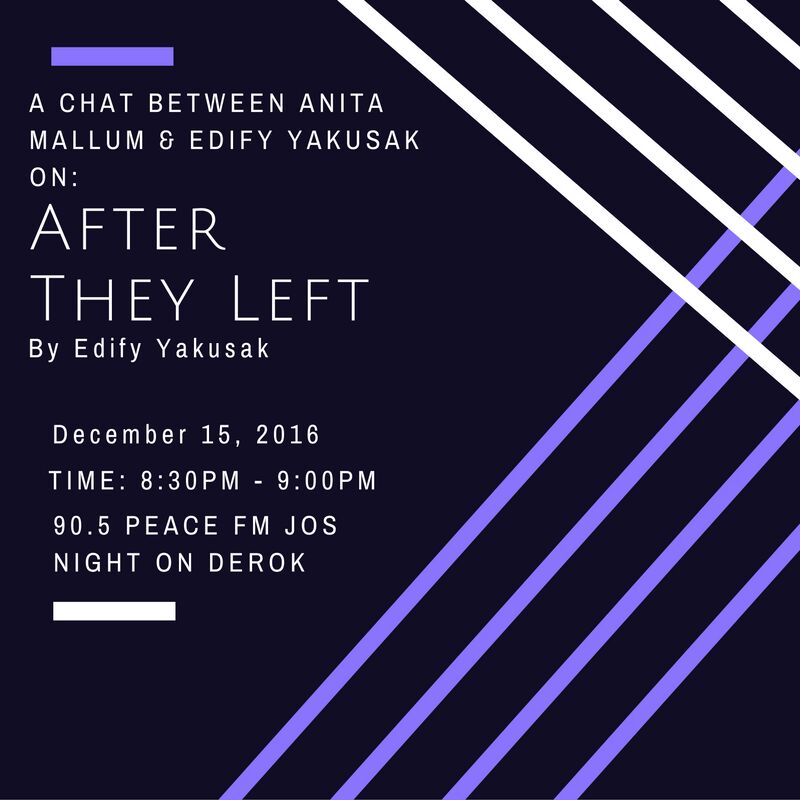 Edify Yakusak will  be in Jos, Plateau on the 17th of December, 2016 where she will be reading from and signing her book, After They Left at the K-Lounge, Elim Suites, Rayfield,  Jos, Plateau. Time is 4pm. She will also be on Peace FM 90.5 with Anita Mullum today at 8.30pm and on Jay FM 101.1 on Saturday, December 17, 2016, 8.30am with Femi Drive. You can listen online.
After They Left is a book which has been receiving a lot of buzz  and has been widely received with acclaim and much reviews with the recent appearing in The Guardian of October 23, 2016.
Other lovely attractions for #AfterTheyLeftJos include DNA(OAP extraordinaire, poet and rapper), Decipher and Praz, both spoken word heavyweights based in Jos. A little birdie has it that Rudolph Adidi, current Abuja Literary Society 2016 Slam winner will be there too. They will all be thrilling the crowd with spoken word pieces.
The event is free for all. Come one, come all.
#AfterTheyLeftJos is powered by Kurdan Publishing and Bagus Mutendi.